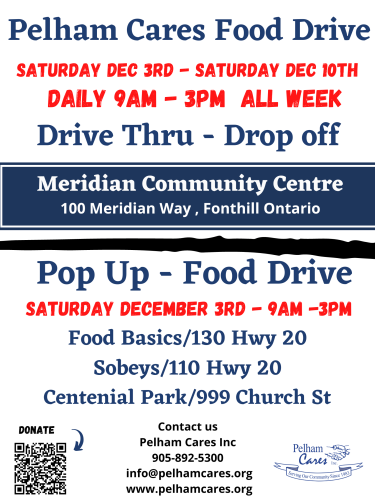 Pelham Cares is gearing up for a week long Food drive this year!
Starting Saturday Dec 3rd  EVERY DAY ending Saturday Dec 10th
Here are a few ways you can help us make this a successful Drive!
Volunteer during the week Food Drive– click here to fill in the Volunteer sign up form and complete the Food Drive form
Contact us – 905-892-5300 or info@pelhamcares.org if you would like to donate to the food drive.
Help us with our most needed items see below
Most Needed items
Canned Fruit & Vegetables
Canned Meats – Chicken/Ham/turkey
Canned Fish – Salmon
Canned Pastas – Chef boy R dee/Alphaghetti
Baked Beans
Instant Potatoes
Rice
Side Kicks/Hamburger Helper
Cookies
Crackers
School Snacks – Peanut free
Jam
Baking items
Juice
Coffee/Tea
Paper Towels
Kleenex
Toilet Paper
Laundry Soap
Further information do not hesitate to contact us at info@pelhamcares.org