Our Mission Our Values
Pelham Cares is a Non-Profit Charitable Organization Servicing the Community of Pelham Ontario
Our Mission
To help the residents of Pelham help each other.
Our Vision
A town where residents achieve optimal wellbeing, independence and community involvement.
Our Values
Compassion, Respect, Integrity, Accountability, Collaboration.
2023 Board of Directors & Staff
The Board of Directors of Pelham Cares Inc. are men and women who bring a wealth of information, skills and years of community service to the organization. All are volunteers, and dedicated individuals who are committed to assisting the residents of Pelham maintain their health, independence and involvement.
Vice President & Fundraising Chair
Nancy Yungblut
Director at Large
Brad Whitelaw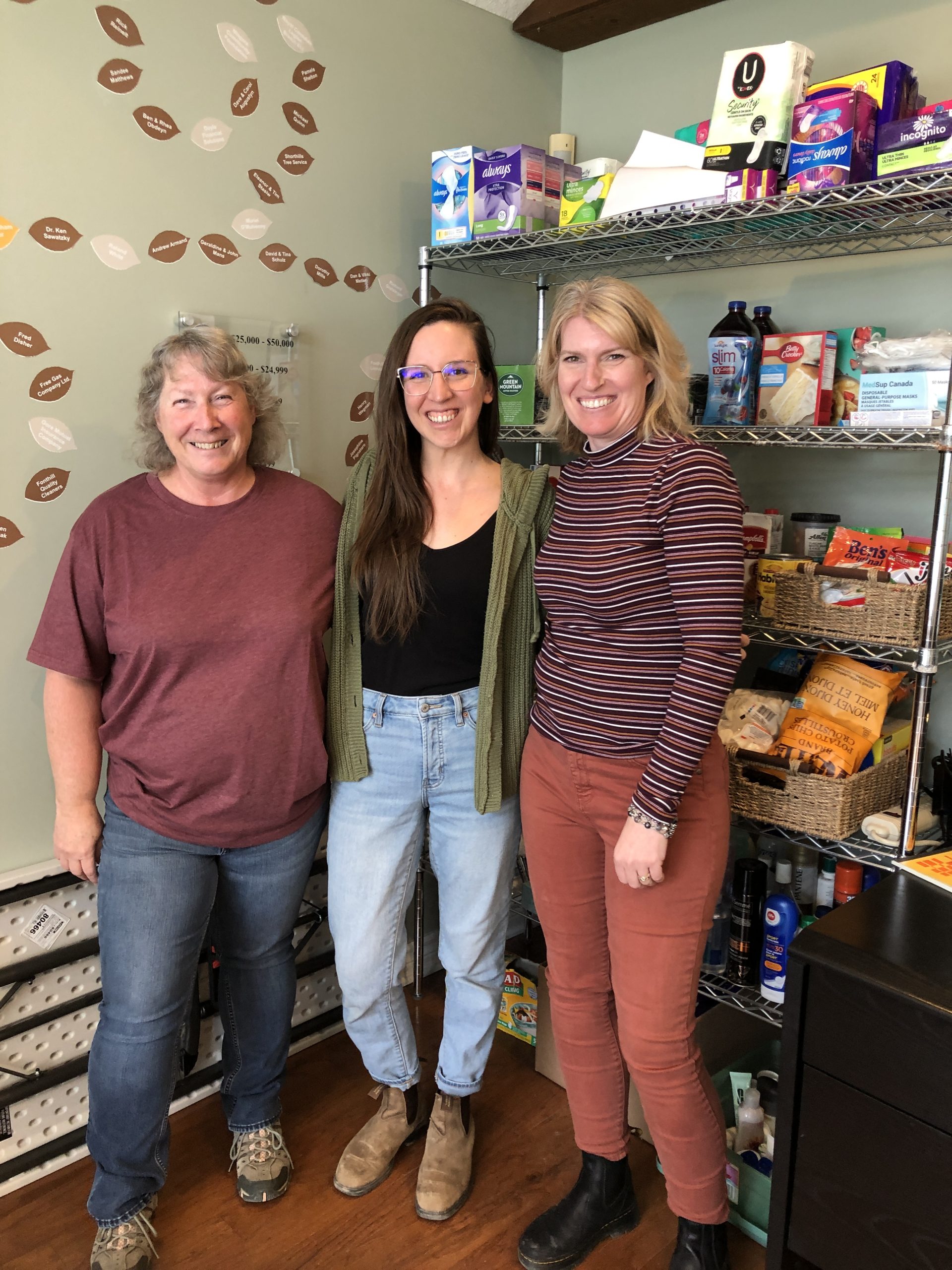 Meet Pelham Cares  staff  (Left to Right)
Receptionist/Client Services Coordinator
Beth Cotter
Administration Support
Amelia Pipher Cayne
Office Manager
Jenn Dubé
Our History
Initiated by a letter to then Mayor of Pelham Eric Bergenstein by Janet Hassall, Social Worker with Niagara Region Home Care, various members of churches and service organizations gathered to consider establishing a Social Service Committee in Pelham. A steering committee then met throughout the following year to identify needed services, a Board of Directors and volunteers, and raise money for operating expenses. This Committee was named "Pelham Cares".
The first official Pelham Cares meeting took place on January 12, 1983, chaired by Eric Bergenstein, during which the Constitution was accepted, the Executive was elected and orientation for volunteers was developed. Pelham Cares Inc. became a registered non-profit corporation on April 18, 1983. Initial services offered were food bank, and the 'Friendly Visitor' program; home visiting including drives to errands and appointments. The organization was supported by 50 member volunteers.
Pelham Cares opened their first office at High Park School on Balfour St., as a result of a New Horizon (Federal Gov't) grant.
1988
During this time, in addition to the food bank and Friendly Visitor program, Pelham Cares met various needs in the community such as; snow shovelling by students for seniors, and Christmas hampers. Meetings continued to be held at local churches. Many community events supported the needs of Pelham Cares, such as:
Car Wash & Community Fund Night at Fonthill Baptist Church
Pancake Breakfast at the Fonthill IGA
Lini Groll book sale at the Fonthill LIbrary
1990
The first Pelham Community Food Drive was organized by Gerry Berkhout. During the depths of a recession there was a pressing need for neighbours to help each other. Gerry would continue to organize this annual food drive for the next 25 years! This would grow to become the primary source of non-perishable donations to Pelham Cares.
2002
By 2002 Pelham Cares had again evolved services to meet the needs of the community, to include; Food bank & deliveries, Christmas and Easter Hampers, sponsoring children for local Summer Camp, respite for families, referrals to other social service agencies, assistance with food and clothing at times of emergency, and transportation to appointments. And from time to time; organizing blood donor clinics and baby-sitting courses, and student lawn cutting / snow shovelling.
2012
In April 2012, Pelham Cares was awarded the June Callwood Outstanding Achievement Award for Volunteering.
2014
The long time dream of having a permanent home, to eliminate the ongoing need to relocate, was realized in 2014! Pelham Cares' new facility located at 191 Hwy 20 East Fonthill was purchased in March 2014. Services were up and running in the new location in April. The campaign to raise funds for long-term viability had been in the works for several years. This was the first fundraising campaign run by Pelham Cares, and included the Home for Good Gala.
2015
In 2015 the Home for Good Capital Campaign concluded. With the support of local service groups, and the citizens of Pelham, over $250,000 was raised for the purchase of the new home. Capital donations from this campaign are recognized on the Home for Good – Donor Wall, located in the Rotary Club of Fonthill Board Room, at the Pelham Cares location.
Pelham Cares would build on the success of the Home for Good Gala, with the Evening in Winter Wonderland Gala in 2015. This would evolve into the Diamonds & Denim Barn Dance, held annually in September, as of 2019.
2016
With the retirement of Gerry Berkhout, Pelham Cares would assume responsibility for the annual Pelham Community Food Drive. Local service clubs were brought on board to assist; Fenwick Lions, Fonthill Lions Club, Fonthill & District Kinsmen Club. Held on the 1st Saturday of December, over 300 volunteers join us to make this day happen!
2018
Pelham Cares celebrated in 2018… serving the community of Pelham for 35 Years!
 20 Volunteer Drivers provided their time and their vehicles to transport clients to medical and related appointments;
 368 requests for transportation were fulfilled;
 461 food hampers were prepared and distributed to Pelham families;
 45 families experienced the spirit of Christmas;
 24 families enjoyed a special dinner at Easter;
 35 Turkeys and Hams and fixings were distributed to families at Thanksgiving;
 37 children received 66 subsidies through the Youth Services program to participate in programs such as Ballet, Rowing, Soccer, Tennis, Summer Camp,Basketball & school programs;
 Over 50 registered volunteers drove approximately 21,825 km and contributed 3,935 hours of service